Product type:C-DH MAT (Roofing Surfacing Mat)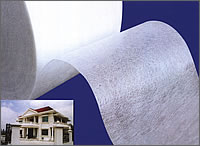 1.COMPOSITION AND PRESENTATION
C-DH MAT(Roofing surfacing mat ) is mainly used as substrates for water–proof materials. The longitudinal strength and tear resistance canbe improved further by incorporating reinforcements into the mat across its whole width. perforated mat is also available when the mat comes out from a particular punch process. the asphalt roll roofing substrated with C-DH mat can overcome problems existing with paper felt such as low-temperature cracking, high-temperature melting, liable to aging, rotting and leaking. Other advantages with C-DH mat substrated roofing are high strength, excellent uniformity, good weathering performance, leaking resistance, simplified process and longer life time.

2. PROPERTIES & APPLICATION
Properties:
High porosity, Warter resistance, High tensile strength, Corrosion resistance, Dimensional stability, Easy saturation by bitumen.
Application :
C-DH mat as an ideal substrate material for asphalt roofing rolls and shingles. C-DH mat can also act as the lining for roof insulation layers to protect polymer foam insulation from the damaging effect caused by chemical solvents in bitumen so as to prolong the lifetime of heat insulation layer.

3.MAIN TECHNICAL CHARACTERISTICS
ITEM

STANDARD

FW 45

FW 50

FW 60

FW 90

Area weight(g/m2)

42-47

45-55

54-66

81-99

Binder content (%)

≤23

≤25

≤25

≤25

Tensile strength MD(N/5cm)

≥170

≥180

≥200

≥280

Tensile strength CD(N/5cm)

≥70

≥75

≥100

≥200