Fibreglass Weaving
Product: Self-adhesive Fiberglass Tape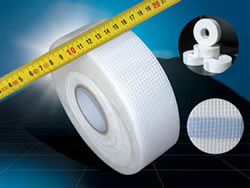 1. COMPOSITION AND PRESENTATION
Self-adhesive fiberglass tape is a kind of woven fiberglass alkali-resistant netlike fabric that has been coated with adhesive and cut into the required sizes. It goes on faster, adheres better, and requires no pasting or stapling. It won't tear, shrink, stretch or bubble while it hides joints, cracks and holes permanently.

2.PROPERTIES & APPLICATIONS.
Properties:
High tensile strength and deformation-resistance, Good performance of alkaline-resistance, Excellent self-adhesive performance, Simple and easy to be applied, Stability to temperature.
Application:
This tape is widely used in joining plaster plates, mending dry wall cracks and piecing together and making up different kinds of plates.

3.MAIN TECHNICAL CHARACTERISTICS
Style

Mass

Yarn tex

Tensile strength(N/25mm)

Fabric count (ends/25mm)

Latex content

warp

weft

warp

weft

warp

weft

CNT-9¡Á9

80

12.5¡Á1¡Á2

90

¡Ý200

¡Ý400

9¡À0.5

9¡À0.5

¡Ý28

CNT-9¡Á9

73

22¡Á1¡Á2

45

¡Ý350

¡Ý230

9¡À0.5

9¡À0.5

¡Ý28

CNT-8¡Á9

75

22¡Á1¡Á2

60

¡Ý300

¡Ý300

8¡À0.5

9¡À0.5

¡Ý28

CNT-8¡Á8

70

22¡Á1¡Á2

60

¡Ý300

¡Ý260

8¡À0.5

8¡À0.5

¡Ý28

CNT-8¡Á8

65

22¡Á1¡Á2

45

¡Ý300

¡Ý230

8¡À0.5

8¡À0.5

¡Ý28