Fibreglass weaving
Product: E -glass Woven Roving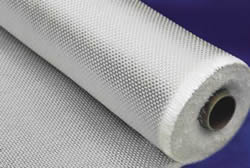 1.COMPOSITION AND PRESENTATION
E-glass Woven Rovings are bidirectional fabric made by interweaving direct rovings. Woven Rovings are compatible with many resin systems such as polyester, vinyl ester, epoxy and phenolic resins. Compared with C-glass Woven Roving, it is high in price, and applicable in production of electrical-resistant FRP products and Engineering plastics products while C-glass Woven Rovings are used in general FRP products and Engineering plastics products.

2.PROPERTIES & APPLICATIONS.
Properties:
Free of fuzz,dirt,impurity and other stains, Good covering and degassing properties, High wet strength retention, High mechanical strength Even thickness, Fast wet-out.
Application:
E-Glass Woven Roving is the elementary material of GRP with reinforcement, corrosion-resistance and insulation. Widely used in apparatus,radio, building slot, yacht making, car frame and hand-lay-up GRP products.

3.MAIN TECHNICAL CHARACTERISTICS
Specification

Tex

Fiber diameter(um)

Count of cloth(root/cm)

Unit area mass (g/©O)

Breaking strength (N)

Texture

Warp

weft

warp

weft

warp

weft

First class product

standard product

warp

weft

EWR200

192

192

11

11

5.0

4.2

180¡À15

180¡À18

1100

800

PLAIN

EWR300

300

380

13

13

5.0

4.0

300¡À15

300¡À15

1800

1700

PLAIN

EWR400A

576

576

11

11

3.6

3.2

395¡À32

395¡À40

2250

1950

PLAIN

EWR400B

480

480

11

11

4.0

3.5

365¡À30

365¡À30

2100

1800

PLAIN

EWR500

672

768

11

11

3.6

3.1

485¡À39

485¡À49

2600

2400

PLAIN

EWR600

1200

1200

17

17

2.6

2.5

600¡À30

600¡À40

3700

3200

PLAIN

EWR800

2400

2400

24

24

1.8

1.8

800¡À40

800¡À50

4200

3700

PLAIN