Fibreglass Roving
Product: E-Glass Direct Roving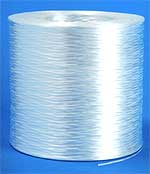 1.COMPOSITION AND PRESENTATION
Direct roving is made in one manufacturing step with a special reinforcement sizing 2000 strands or 4000 strands of filaments are bonded efficiently into a single strand. The tension of each glass fiber in the strand is uniform.

2.PROPERTIES & APPLICATIONS.
Properties:
Excellent Choppability of Strand, Fast and complete wet-out, Good Affinity to Resin, Good Strand Integrity, Good Distribution, Suitable Stiffness, Even tension.
Application :
Direct roving is primarily used in filament winding. Pultrusion (such as pultruded rod, pipe, tanks, etc)and other fiberglass products(such as woven roving, chemical resistant grating, etc).

3. MAIN TECHNICAL CHARACTERISTICS

Style

Tex

Yield

Diameter of filament(um)

Compatible resin

Applicable process

ER 300

300,400,600,

900,1100,1200,

2400,4800

1800-103

13-24

UP、VE

Filament winding

ER400

300,400,600,

900,1100,1200,

2400,

1800-207

13-24

UP、VE、EP

weaving

ER500

300,400,600,

900,1100,1200,

2400,4800

180-103

13-24

UP、VE

Pultrusion


Storage:
Direct roving should be stored dry and in its original packaging. The best conditions are temperature between 10 and 35℃ and at a relative humidity between 35 and 85%.