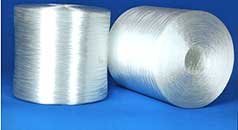 1. COMPOSITION AND PRESENTATION
SMC rovings are especially designed as reinforcements for thermoset resins used in sheet molding compounds. It is varied for Class A, structure and boiling resistance type. It's one of quick wet out and Wet through, compatible with unsaturated polyester(UP), vinlyester(VE).

2. PRODUCT CHARACTERISTIC
Properties:
-- Adopting special designed sizing, low static, rare fuzz, good choppability, less consumption of cutter blade and rubber roller.
-- Silicane coupling agent, bring composite high mechanical strength and boiling resistance.
-- Excellent dispersion, fiber spreads even and no bulk or pile accumulated.
-- Excellent wet out and Wet through, low fluff in SMC sheet.
Application :
They are widely utilized in manufacturing spare parts and body of automobile, electronics, shell of instruments, wall panel of construction, profile and water tank panel.

3. MAIN TECHNICAL CHARACTERISTICS
Style

Tex

Yield

Diameter (um)

LOI (%)

Resin system

Application

SMC415

2400

207

13-14

1.95

UP,VE

Structure, electronics

4800

103

SMC416

2400

207

13-14

1.25

UP,VE

Structure

4800

103

SMC417

2400

207

13-14

1.85

UP,VE

Class A & Structure

4800

103
Note: Special products are according to customers requirements.