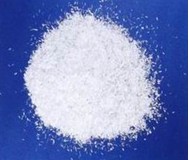 1.COMPOSITION AND PRESENTATION
Wet chopped strands are produced by chopping wet fibreglass strands into a certain length. The surface of strands is coated with a silance-based size which imparts a specific application property to the product.

2. PROPERTIES & APPLICATION
Properties:
Moderate moisture content, Good dispertion in water, No lumps or strips.
Application :
Wet chopped strands are mainly used to produce wet formed fibreglass mats to enhance surface strength, smoothness and chemical resistance of end products. The product has numerous applications including water-proof roofing material, GRP surface, facing material, floor covering and battery separators.

3.MAIN TECHNICAL CHARACTERISTICS
| | | | | | |
| --- | --- | --- | --- | --- | --- |
| Product No. | Type of Glass | Filament Diameter (um) | Size Content | Moisture Content (%) | Cutting Length (mm) |
| EWCS-1 | E | 7 | 0.25¡À0.10 | 5-10 | 6-24 |
| EWCS-2 | E | 9 | 0.25¡À0.10 | 5-10 | 6-24 |
| EWCS-3 | E | 11 | 0.25¡À0.10 | 5-10 | 6-24 |
| EWCS-4 | E | 13 | 0.25¡À0.10 | 5-10 | 6-24 |
| CWCS-5 | C | 13 | 0.20¡À0.10 | 10-15 | 6-24 |