1. COMPOSITION AND PRESENTATION
AR GLASSFIBRE CHOPPED STRAND is a high integrity AR glass fiber chopped strand designed for using in dry mix systems or other premixing processes for subsequent moulding into a GRC component. This kind of chopped strand has a sizing system optimized for abrasion resistance and strand integrity during blending with dry materials. The low- tex strand permits efficient reinforcement at low dosages.
2. PROPERTIES & APPLICATIONS.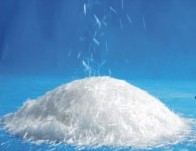 Properties:
Good liquidity and integrity

Excellent alkali resistant and durability

Have been approved by Sheffield University, UK.
Application:
1. It is particularly suited to the preparation of pre-bagged mixes of special mortars or renders.
2. It may also be used in the manufacture by precasting of standard GRC components.
Example: AR15-12mmL (H)
AR: Alkali Resistant
15: Filament diameter
12mm: Strand length available
L: ZrO2 content 14.5%
H: ZrO2 content 16.7%
3. MAIN TECHNICAL CHARACTERISTICS
| | | | |
| --- | --- | --- | --- |
| Item | Tex of strand(tex) | Sizing Content (%) | Moisture (%) |
| Standard | JC/T572-2002 | JC/T572-2002 | JC/T572-2002 |
| ZrO2 14.5% 16.7% | 98 ± 10 | 1.6 ± 0.2 | ≤ 0.2 |
| Low Strand Tex | 50 ± 5 | 1.6 ± 0.2 | ≤ 0.2 |