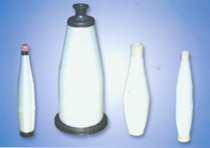 1.COMPOSITION AND PRESENTATION
Glass fiber yarn is made from many 4-9 micron glass fiber filaments, which are then gathered and twisted into one individual yarn.

2. PROPERTIES & APPLICATION
Properties:
Even linear density, High strength, Low fuzz.
Application :
It is widely used in the production of fabric as well as the electrical wrapping materials.

3. MAIN TECHNICAL CHARACTERISTICS
Glass fibre style

Twist

Weight-length ratio approx value

Average breaking strength

Designation (count)

Designation (tex)

TPI

TPM

YD/LB

G/KM

LBS

Newtons

ECC1800 1/2

EC42.751¡Á2

3.5Z

S140

90,000

5.5

0.8

3.56

ECD1250 1/2

EC541¡Á2

3.5S

S140

62,500

8.0

0.88

3.92

ECD800 1/2

EC5.561¡Á2

3.0S

S120

40,000

12.0

1.10

4.90

ECD450 1/0

EC5111¡Á0

1.0Z

Z40

45,000

11.0

0.94

4.20

ECD450 2/0

EC5112¡Á0

4.0Z

Z160

22,500

22.0

1.98

8.80

ECD400 2/0

EC5.5122¡Á0

1.0Z

Z40

20,000

24.0

2.02

9.00

ECD400 1/2

EC5.5121¡Á2

3.0S

S120

20,000

24.0

2.20

9.80

ECE200 1/0

EC8241¡Á0

1.0Z

Z40

10,000

24.0

1.91

8.50

ECE200 1/2

EC8241¡Á2

3.0S

S120

10,000

48.0

4.27

19.00

ECG150 1/0

EC9341¡Á0

3.0Z

Z120

15,000

33.0

1.96

8.70

ECG150 1/2

EC9341¡Á2

3.0S

S120

7,500

66.0

3.96

17.60

ECG150 2/2

EC9342¡Á2

3.0S

S120

3,750

132.0

7.92

35.20

ECG75 1/0

EC9661¡Á0

0.7Z

Z28

7,500

66.0

3.91

17.40

ECG75 1/0

EC9661¡Á0

3.0Z

Z120

7,500

66.0

3.91

17.40

ECG75 2/0

EC9662¡Á0

1.0Z

Z40

3,750

132.0

7.83

34.80

ECG37 1/0

EC91341¡Á0

0.7Z

Z28

3,700

134.0

7.83

34.80

ECG37 1/0

EC91341¡Á0

3.0Z

Z120

3,700

134.0

7.83

34.80